We know that not all of the people read The Button Blog have visited the main American Button Machines website, and vice versa. However, we know that, if you are here, you are investigating button machine products and button making supplies. Thus, to ensure that nothing slips through the cracks, we will be beginning a series of posts that highlight some of our best-selling products.
And we thought it was fitting for the first post in this series to focus on, what else, button machines!
So here you are, a listing of the button machine products offered by ABM, along with the descriptions from our storefront.
Take note: the links will take you away from The Button Blog and to our storefront page at AmericanButtonMachines.com. We just didn't want you to be alarmed.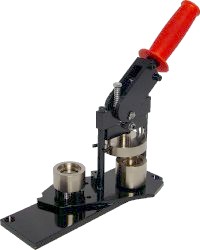 1″ Button Maker Machine.
FREE SHIPPING ON THIS ITEM!
Includes 1 Inch Button Machine, 15 Free 1 Inch Pin Back Buttons and a Free Crimp Die Adapter (for making flat backed buttons – $17.95 value), and Free Flat Backed Buttons to get you started.
Patented – exclusive design.
Two-step button making process.
Swivel die set – no changing of dies between steps.
Cushioned hand grip – Requires very little physical force to push the handle down.
Compact, lightweight machine for easy storage and transport.
Use with Graphic Punch Model # 1313 or our Adjustable Rotary Cutter Model# 27500.
Follow the link to learn more and buy this button machine.