Seeing as how we are American Button Machines, we figured it would be fitting in the wake of the 2008 Presidential Election to give a quick rundown of the best campaign buttons from this year's election battle between Obama-Biden and McCain-Palin.
While researching, we came across an outstanding article from the New York Times written by Steven Heller, a teacher at the School of Visual Arts. Steven Heller runs down a brief history of the campaign button, and then discusses his thoughts on the best buttons from the 2008 election.
A few interesting nuggets of information from Heller's article
George Washington and supporters wore one at his first inauguration, in 1789 — a brass clothing button that read "G W — Long Live the President."

Exactly when political campaigns began to use them is not altogether clear. But by 1824, the presidential campaign of Andrew Jackson was issuing small brass discs that bore his name and likeness.

But in 1952, a paradigm shift in design took place, said Larry Bird, curator in the division of politics and reform at the Smithsonian National Museum of American History. Campaigns began using buttons to brand their candidates. "The Ike Age begins because someone went out of his way to make simple buttons that said, 'Ike' or 'I Like Ike,' " he said. "It was the beginning of the politics of personality."
Before leading readers into his entertaining slideshow of his choices for the best campaign buttons from the 2008 President Election, Heller discusses the booming business of campaign buttons and concludes his statement with a lovely and appropriate bit of figurative language: "With the campaign finally drawing to a close, buttons have been selling like blue spruce on Christmas Eve, and some designs are almost gone."
It would be tough to match Mr. Heller's list of the best campaign buttons from the 2008 Presidential Election. So rather than try to compete with his list for the best buttons, we're just going to show you a few that we found particularly interesting. (And it is important to note, for the sake of clarity, American Button Machines does not endorse any particular candidate or party — we endorse America.)
A few recent campaign buttons that we found particularly interesting:
First, we will start of with a couple that we actually would add to Steven Heller's list, if he ever asked for our advice. (We are not holding our breath, of course!).
The first button, pictured at the left, is of John McCain with Ronald Reagan in the background. (This button, along with many others from the 2008 presidential campaign, can be purchased here.) The subtle association between McCain and one of the most revered icons of conservatism makes this an effective campaign button. During the 2008 campaign, McCain tried to align himself with respected conservatives like Ronald Reagan, while trying to distance himself from the poor poll numbers of the Bush Administration.
Ultimately, considering that he lost, he was not as successful as his campaign had hoped — but this well constructed button was not to blame.
The second button that receives the official American Button Machines stamp of approval is the one pictured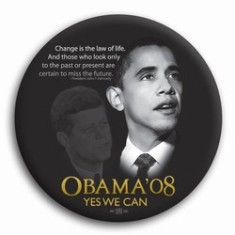 to the right, featuring Barack Obama with John F. Kennedy in the background. We liked this button for the same reason that we liked the McCain-Reagan button. As Heller mentions in his article, campaign buttons help to communicate the "politics of personality," and an effective strategy for many campaigns has proven to be associations with iconic images from the past.
For a Democratic candidate, linking oneself to John F. Kennedy has always proven to be a strategy that garners favor in the eyes of the Democratic base.
Now that we hav
e discussed a couple of buttons with a serious tone, we will present a few more that we like for, well, other reasons.
The button to the left features Barack Obama and a figure of fame and prestige who transcends all partisanship and political ties: Tony the Tiger. We are not sure who came up with this button idea, but we love it! The catch phrase "They're Grrrreat!" is easily malleable to fit the tone and theme of the button, as the button makers did here by altering it to the rhyming "Grrreat in '08".
Additionally, the juxtaposition of a cartoon character with the ubiquitous image of Barack Obama makes it more eye catching than more normal, traditional buttons. In our eyes, this campaign button is grrrreat!
And finally, our absolute favorite of all the campaign buttons and memorabilia that we uncovered while researching this post. This one probably does not fall specifically under the description of button, as it appears to be more of a zipper pull-style dog collar decoration, but the phrase is simply priceless.
Bark Obama.
At first, we thought it was just a typo and hoped that whoever made this button did waste an entire batch of supplies making unusable buttons. Then we realized the pure genius of the idea for use on a dog collar.
If only someone had come out with some campaign memorabilia supporting "McCainine", dogs everywhere could truly have had a voice in 2008.
Oh wait, they did.  And there are plenty more such products that can be purchased here if your dog or cat wants to express their political views.
At the end of the day, as Heller explained, political campaign buttons certainly have become big business, especially in the realm of presidential elections. In our opinion, campaign buttons are most effective, and leave lasting impressions, when personality combines with strategy and is then subtly dipped into a fondue of fun. (How's that for some figurative language!) The end goal, of course, is simply to create an effective visual tool that succinctly communicates a candidate's message.
Count us among those who are already looking forward to seeing what campaign buttons the candidates come up with in 2012.
Brighid Brown – Director of Blogging and All Things Cool at ABM