Did you know American Button Machines has available not one but two different types of fabric button machines? Anyone who has done research for fabric buttons knows all about the Red-n-Black Machine. But few of you are aware of the Green Machine. This beauty has been in the shadow of her super star, 2nd cousin twice removed, far too long. It is high time she steps in front to showcase her talents.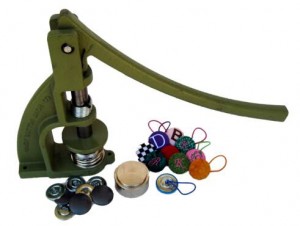 The Green Machine is sold as a kit which includes the button maker, the die size of your choice and 144 large wire eyelet button sets. Since the Green Machine was born to make embroidered buttons using standard cotton blend material there's no need to send in samples for calibrating. And for those of you wanting to make multiple sizes with one machine – here she is. The Green Machine Kit comes standard with one die set. But you can also get a 3/4", 1" or 1.5″ die set; giving you the capability to increase your product offering threefold.
What else makes the Green Machine stand out from other fabric button makers?  Not only the versatility of exchanging die sets so you can make different sized buttons but it also makes very "small" buttons that are either difficult to make or nonexistent with other button machines. You can make tiny 3/4″ and 1″ monogrammed fabric buttons just as easy as the larger 1.5″ buttons without a second thought.
The Green Fabric Button Machine can make:
• super cute ponytail holders
• button bracelets
• cell phone charms
Or simply attach to:
• shoe laces
• flip-flops
• hair ties
• shoe charms
So if you are looking to make multiple button sizes with a single button machine, the Green Machine may be exactly what you are looking for.
Until next time, Happy Button Making!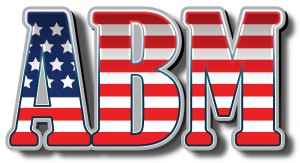 By Brighid Brown, Director of Blogging and All Things Cool at ABM